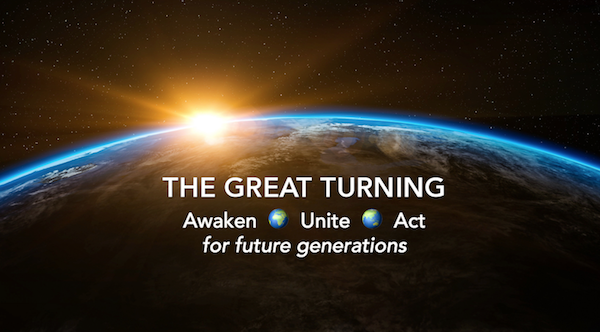 From The Great Turning's website:
Our online spiritual education and resource centre is for anyone who is questioning or concerned about the plight of humanity and the planet, and is seeking ways to proactively engage through connection with spirit and like-minded others. Together, we can turn the tide by contributing individually and collectively to the cultivation of a life-affirming global family. We are uniquely positioned to amplify and bring together the great minds, who have dedicated their lives to the pursuit of humanity's evolution, to help us to navigate the greatest challenges humanity has ever faced by shifting our consciousness to accelerate The Great Turning.
Mattie Porte, the force behind the Great Turning Initiative, recently hosted a panel:
An Intimate Discourse with Great Turning Visionaries: Joanna Macy, Craig Schindler, David Korten, Pat McCabe, Duane Elgin and Chris Johnston.